​​

Due to rapidly

growing markets

and an upsurge in consumer trends, China has become a major focus for Tesla Motors. However, as operations develop in this new industry, it's becoming apparent that previous strategies that brought success in the original market, may no longer be a fit. Thus, adapting strategies is a necessity to 'supercharge' Tesla in China, paving the way for further expansion.

​

Tesla must modify their sales method by utilizing alternative promotional techniques, thus overcoming the obstacles of the inherent differences found in Chinese retail culture. Tesla must also adjust their pricing strategies in accordance with the desired perception of the Chinese consumers, as well as overall industry competition. The Chinese market involves many aspects that are encouraging Tesla's growth; local economic development and consumer trends are just starting points of the thriving opportunities for Tesla's operations in China. However, various external factors must be taken into consideration as they may threaten the future success in this market. Some of these include; governmental restrictions, new competitors, social conflicts regarding sales tactics as well as factors affecting pricing strategies.
Regulation in China.


From the opening of their flagship store in Beijing in November 2013, Tesla faced a

number of different obstacles with Chinese regulations. The strict nature of Chinese customs prevented Tesla from meeting the

first orders in China for the renowned Model S.

Tesla was forced to change the delivery procedures, which was done without the consent of Chinese customers. This led to complaints from many customers and in some cases they have threaten to taken legal action against the company on the grounds of misinformed promises to customers.

However, Chinese regulation for automotive sales allows for Tesla to reach more overall customers than in the U.S. Tesla's signature sales method has become renowned for its innovative approach, but has continuously faced many government restrictions in the U.S. The states of Ohio, New Jersey, Arizona and Texas have all banned the sale of cars from manufacturers directly to customers. The Chinese government, however, does not impose such restrictions that could block Tesla's sales. Thus, if the company can overcome initial market barriers, it has been forecasted that given the high demand, an outstanding 40% of overall revenue will come from operations in China.



Economic trends are moving in favor of Tesla.




With the Chinese economy being the second largest in the world with growth rates of

10%

on average over the past 30 years

, it offers extremely attractive opportunities for companies in every major industry. In recent years as income per capita has increased, China has been seeing an increase in domestic consumers which create opportunities for goods to be sold within China. Additionally, there has been increasing demand for imports of foreign high-end products to satisfy the expanding Chinese upper class. China is especially attractive to automotive companies given the immense size of this industry.

The Chinese government has pledged to invest

$15 billion to the electric vehicle industry

, with aspirations for creating a world-leading industry in China for clean energy. If Tesla can successfully overcome the initial barriers to entry, and continue to adapt to the Chinese market, it will serve as a catalyst to Elon Musk's vision of a clean all-electric automotive industry.

​
Powered by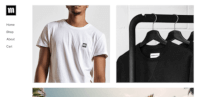 Create your own unique website with customizable templates.